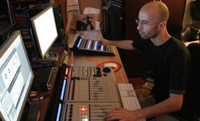 About Dr. Speaker Blower
Dr. Speaker Blower started 3 rock/hardcore bands while being a teenager. In 1998, he started a new project - Sonic Tribe Indians, the first drum´n´bass band in Portugal. In 2002 the band split and he started to explore new sounds within d´n´b. Always playing in Live Act mode (since 1998), he is one of the leading drum´n´bass producers in Portugal. Best known for creating from the scratch the big majority of the sounds he uses in his music, he also created the very first portuguese vst plugins. Recently started the first d´n´b label in this country: Speaker Blower Records - his biggest project to this date. Here´s a collection of exclusive unreleased tracks, remixes, vip versions and some video clips including live videos.
Download
Seriously Affected 2013 Remix (feat. Mc Tresh) - 01/2013 - 6 min. (mp3@320). Download here.
Scuba Radio Show mix - Mini Live-Act for a Radio program at RUA FM - 02/2011 - 62 Min (mp3@256). Download here. Tracklist is here.
Evolution of Darkness Mixset 1 - Speaker Blower Records 2010 Showcase. 75 min. mix hosted by Mc Tresh. High quality sound (mp3-320). Download here. Tracklist is here.
Dr. Speaker Blower Sci-Fi Drum´n´Bass Live Act (with Mc Tresh) in Oporto - 25/12/2008 download here. Tracklist is here.
For complete discography, more information and music by Dr. Speaker Blower, visit his website and his label website.