Lusus (VST Synthesizer - PC)
v. 1.2
Dr. Speaker Blower presents Lusus, a simple but powerful virtual analogue synthesizer with a total of 16 voices. It is powered by 4 oscillators per voice (2 analogue and 2 digital - where you draw the waveform), 1 multimode filter (LP, HP, BP, Notch and Peak), 2 envelopes and 1 LFO. There´s also a wavescope where you can see the synthesizer´s output waveform (and its changes) in real time. Powerful effects section with OuraDrive (now also available as a separate vst plugin), Chorus and Delay. The tandem filter-ouradrive-chorus works particulary well, being the responsable for the synthesizer´s fat and warm sound. Lusus is completely automatable, has 32 presets onboard and is a free stand alone application (PC only) and/or a PC VST instrument.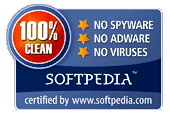 New in version 1.2: Mono/Poly Control, Midi Channel Control, Portamento (only in mono - 1 voice), new keyboard version (picture), 16 new presets and GUI improvements.
Quote from a user: "I'm a keyboard player and I'm interested in your Lusus synth. This free synth is a very good one: there are not many standalone synths with more than 2 oscillators. Its sound is very fat and warm." Csaba - Hungary

I can proudly say that Lusus is very popular, is referenced in several websites and forums worlwide and it counts an average of more than 500 downloads each month since its release in July 2007 (counting in this site only). Have fun with it and watch your speakers! Dr. Speaker Blower
Note: this is a free version of this plugin: it is given as is, support is very limited (although I only had one issue report that was a sequencer issue after all). Click the picture to see a full size image.
Demo: mp3 where you can listen to the power of Lusus (v. 1.0). All sounds you hear in this mix are from the given presets, except the drum loop, of course.
Demo Download Download Stand Alone version Download Keyboard version pack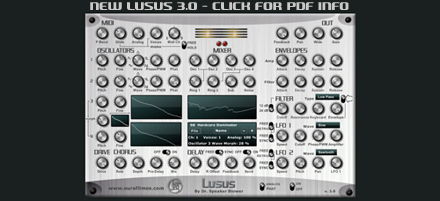 v. 3.0 mp3 Demo v. 3.0 info Compare Try Demo/Buy